With the beginning of the Digital era, a new space was created for generating revenue, along with a stream of innovations to help a brand grow in terms of sales as well as revenue. Search engines are a primary source of  Digital marketing because it is where most information is sought over the web.
Because of which, SEO became all the more important and mastering the art of SEO has become a continuous process.
Keeping this in view, Google came up with a tool known as 'Google My Business' which provides Marketers a platform to project their brands on all of Google's products and platforms, including SERPs(search engine results pages), reviews and instant content.
And the best part is that it is free. Google My Business shows that allows users to control how their business appears on Google Search and Google Maps.
It shows business name, location, working hours, photos, customer reviews and knowing who are searching for it, when, where and how they are searching for a business.
Benefits of Google My Business:
Google My Business is user-friendly and can be signed up from the desktop or can be downloaded on Google Play, App Store. The benefits of  Google My Business are numerous and some of them are as follows: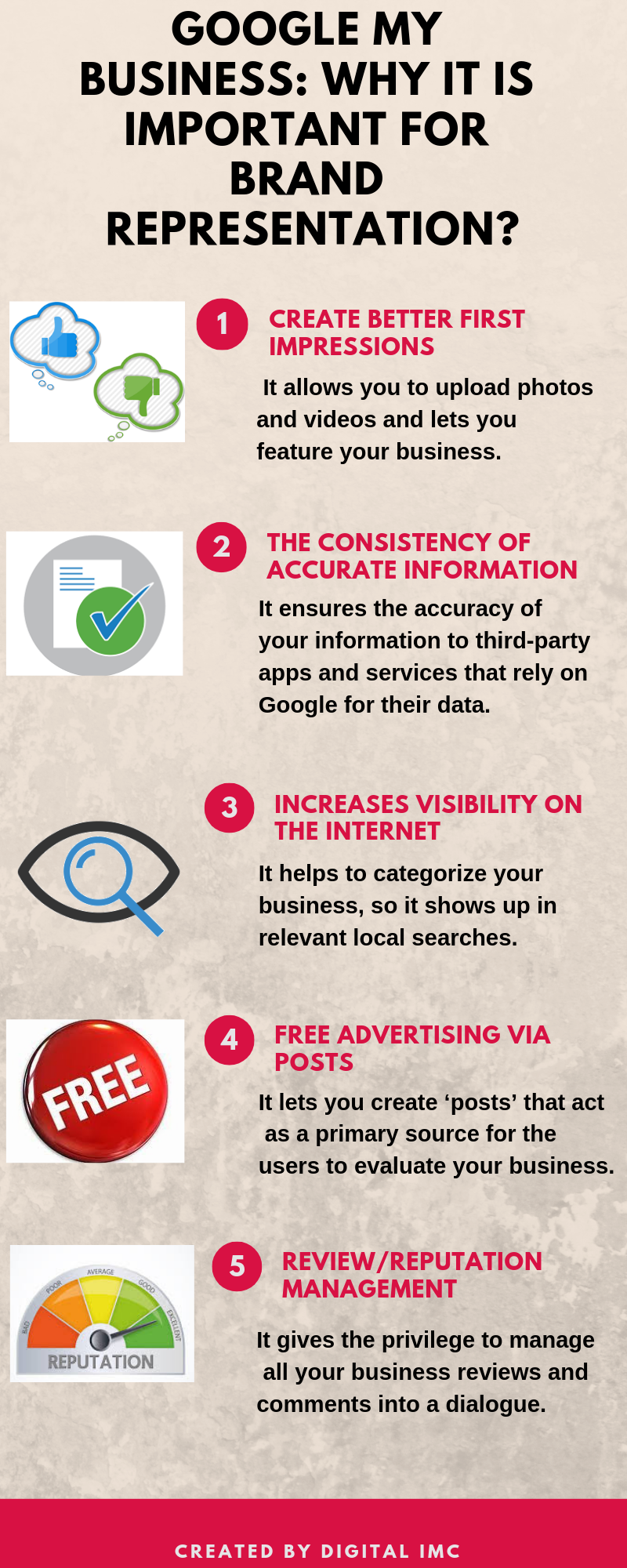 Creates Better First Impressions:
Google My Business allows you to upload photos and videos and lets you feature your business through actual visuals by displaying the best of images on your business profile. This helps to create an impressive first impression on potential customers.
The consistency of Information:
Businesses online can sometimes have discrepancies by having wrong or out-of-date information. However, this mistake can be avoided by updating the details from time to time on your Google My Business. This ensures the accuracy of your information to third-party apps and services that rely on Google for their data.
Increases Visibility on the Internet
Google My Business helps to categorize your business, so it shows up in relevant local searches.
Free Advertising via Posts
Google My Business lets you create 'posts' that act as a primary source for the users to evaluate your business and can also be used to address your customers regarding any limited-time offers, promotions etc. to increase the sales. So it can be a good advertising opportunity to improve your sales or brand reputation.
Review/Reputation Management
Business reviews are a critical component of every SEO strategy and Google My Business account, lets you have the privilege to manage all your business reviews and comments into a dialogue.
This is a perfect opportunity to understand what your customers feel, where you can improve upon your business delivery and accordingly provide customer satisfaction. When you interact with your customers at regular intervals – it makes them feel that you are a credible business enterprise.
Conclusion:
Google My Business is the best option for a new business that wants to grow with Local SEO. As when people search for a business nearby, they are going to rely on extensive details such as contact details, work timings, customer reviews etc.
And so Google My Business is certainly, one of the exceptional tool ever developed in the area of digital marketing.